We thought it only fitting to open this column with the question that created the spark that was to grow into the collaboration that cool anthropology is today. In 2004, a few days after the end of the introductory anthropology class I (your cool anthropologist) had taught and she had attended, Victoria (your cool idea transmission specialist) wrote me an email with an anthropological question. The answer I gave at the time was a pretty standard scientific response and has never really satisfied her. As it turns out, nine years and two degrees later, I find myself reading an increasing number of scientific studies that fly in the face of my standard response and support her intuitive ideas about what the answer might be.
In most introductory anthropology courses, like most biology courses, we teach that the primary mechanism of evolution, including human evolution, is mutation. Mutation, in a general sense, is random: genes alter through replication and these changes are inherited by offspring.
The beneficial mutations are usually kept around as the offspring live to have their own, while the detrimental mutations usually die out with the offspring who were unlucky enough to get randomly saddled with them.
While there is certainly truth to this answer, there have always been suspicions how it could be so, well, random. Now, claims of an "intelligent designer" never presented enough scientific evidence for consideration and so I stuck with the random mutation explanation. Over the past decade, as discussions of genetics moved more and more into popular conversation, it seemed that the gene became more and more immutable and a greater determinant of all sorts of behaviors from alcoholism to depression- even cancer. As an anthropologist, and a student of culture, I've always been a little uneasy about attributing too much to the gene.
There is so much that happens to us after we are born, potential random mutations in tow- so much stuff of culture that determines who we are and what we do.
Now, being a student of culture and the effects of our environments on our behavior, until recently, has had almost nothing to do with genetics. Having control over what happens to us at a genetic level was the stuff of fringe movements and something like will or focus- the stuff of emotion- couldn't have a place in biology. Or could it?
A few years ago, I read a study that intrigued me. It was conducted by a medical anthropologist interested in the role of culture in why certain people are at higher disease risk. Dressler (2004) found that many cultural issues played a role in measurable differences in the risk for high blood pressure, including sociocultural stresses generated within the process of social change and modernization and individual differences in an individual's behavior compared to the guiding awareness of his or her culture.
In other words, what people talked about as genetic risk factors for certain diseases seemed to be related to cultural factors.
This study resonated with me for a while and then I read another, which had similar conclusions to make. Gravlee (2009) specifically studied a hot topic for both social and biological anthropologists- as well as the world at large: race. He noted that racial basis, albeit social, has real biological outcomes. He and his colleagues continue to argue against race as a biologically-salient tool for classifying humans into genetic risk categories. The increased risk of cardiovascular disease, diabetes, stroke, certain cancers, low birth weight and preterm delivery among certain disadvantaged populations, he argues, has to do with the effects of the stressors associated with living with racism on the epigenetic processes. In this sense, a social process, racism, creates a biological category, African-American risk for metabolic disorders. Importantly, these biological risks can be inherited. Suffering through daily racism can change us on the genetic level.
This blew me away. Our social system, and our place in it, can change our genes? The implications of this research, to me, was vast.
I don't remember when I first heard the term epigenetics but it was nice to finally put a "science word" to these ideas. How does this actually work- this changing of the genes and then passing on these changed genes to the next generation?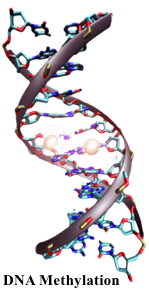 It has to do with the process of methylation, which can be affected by all sorts of factors, including environmental stress. That the pattern of methylation is heritable, a decades-old suggestion, has just recently been discussed at length. It is understood that DNA methylation and histone modification lead to changes in chromatin structure that may affect gene expression in a way that is inheritable.
You can read lots of cool studies involving mice that address how the process works. These studies were likely less cool for the mice but, regardless of how you feel about the ethics of animal studies, they really have helped us figure out the mechanisms involved in epigenetic processes.
Here's one that I like: Epigenetic transmission of the impact of early stress across generations.
Epigenetics research has shown us that the gene can and does change during the lifecourse. There are many factors that can cause the change: stress, environmental pollutants, etc. It wasn't until one recent study, however, that I seriously considered the affect of sheer will, or desire, on the alteration of genes. The study focused on pain and how people who consciously think differently about pain can actually change their physiology.
They were essentially willing their bodies to be different- and it was working! These changes are heritable.
The scientists concluded both that the brain is a very plastic organ and "having fun and friends is really good for you." We knew this, of course, but did we really believe that we could alter our genes this way? That we could pass on the positive attitude to our kids through our genes? It's looking that way, and it's pretty exciting if you ask me.
I can't look at Facebook these days without seeing an article about this process: pain, nutrition, pregnancy, metabolic disorder- all from the perspective of the epigene. Follow us if you would like to see more of these articles in your feed. Epigenetics is exciting in that is gives us a certain amount of control back. What's interesting to me, as an anthropologist, is if we are going to take the control. If we are willing our evolutionary path, which one are we going to choose?
I wrote about these choices as they relate more specifically to mental health on Recycled Minds, a website run by another cool anthropologist and his cool sister.
So, to answer your question, Victoria, while the science is new and the studies are still flooding in, more and more anthropologists do believe that our place in our environment, and how we think about it, can affect us on a genetic level. Sheer will? Not so sure. But we, as a species, are likely in far greater control of the evolutionary process than we ever thought we were.
Kristina Baines is our resident cool anthropologist. She's been formally trained in applied, sociocultural, ecological and medical anthropology at Florida Atlantic University (BA, MA), the University of Oxford (MSc) and the University of South Florida (PhD). She has a strong interest in corn, how what we do in our environment makes us well, and using innovative methods to make anthropology relevant and accessible to a wide audience. You can find out more about how these interests translate into projects and pursuits by perusing the rest of our site, or you can contact her directly at kristina@coolanthropology.com.