THIS PROJECT WAS FUNDED!! THANKS TO EVERYONE THAT DONATED!!
Playing the marimba is a Maya heritage practice handed down from grandfathers and fathers to sons and grandsons for hundreds of years.  With changing traditions, fewer and fewer children are learning to keep this distinctive collaborative musical practice.
The Canti family in Santa Cruz is working to keep the tradition alive by playing and teaching marimba music for community events and special celebrations, both in Santa Cruz and throughout the neighboring villages.  Fortunate to be their neighbors during my time in Santa Cruz, I can attest to their tireless practice and exceptional skill with this beautiful instrument.
The Canti family hopes to continue the important work of maintaining the Maya marimba tradition.  Unfortunately, their marimba has suffered damage after years of use and is in great need of replacement.  The making this traditional instrument is a skilled heritage practice in its own right and is only done in certain regions of Guatemala by skilled craftsmen.   Crafting the marimba and transporting it from Guatemala to Belize is expensive and well beyond the means of the Cantis and their subsistence farming community.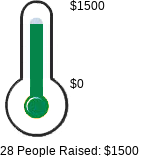 My goal is to raise $1,500, the cost for the crafting and transporting of a new marimb.  I will personally ensure that 100% of your donation goes toward the marimba.  If you can spare even a small amount, together we can promote traditional music, traditional craftsmanship, Maya heritage and community gatherings.  These are incredibly important at a time when it is becoming more common to overhear youtube videos than marimba in Maya communities.  I believe that these musical sources can coexist.
Sussano Canti, a respected community elder, has personally asked that I make this request.  If you are passionate about music, about heritage, about community and/or about Maya traditions, please take a moment for a donation.  All donors of $25 or more will receive a digital download of marimba music, as played by the Cantis.  Once I have reached our fundraising goal, traveled with the Cantis to Guatemala and safely returned with the marimba to Santa Cruz, I will facilitate a professional recording by the local radio station, Ak' kutan Radio at Tumul K'in Center of Learning. We will email you with the link, once it is available, so you can download and enjoy it yourself, wherever you are! Thank you!
Kristina Baines
kristina@coolanthropology.com